VISIT / CONTACT US: EcoWellness.com
Naturopathic Clinic, 613-839-1198, reception [at] ecowellness [dot] com
Facebook: https://www.facebook.com/carpridgenaturalhealthclinic
Learning Centre, Carp Ridge Learning Centre
_______________________
NATURAL HEALTH NEWS & EVENTS CALENDAR:
LATEST NEWS:
Stittsville IDA Pharmacy Now Offers Compounding
Courtesy of the Stittsville IDA website
Pharmacy compounding is the art and science of preparing personalized medications for patients.  Compounded medications are "made from scratch" – individual ingredients are mixed together in the exact strength and dosage form required by the patient. This method allows the compounding pharmacist to work with the patient and the prescriber to customize a medication to meet the patient's specific needs.
For more info: http://www.idapharmacy.ca/pharmacy-services/compounding
An online organization that supports global change in the direction of honouring human rights, environmental protection, sustainability and other worthy goals.  It's easy to support these goals once you sign up to their emails, just 2 clicks and you add your name to millions on petitions that help move governments and corporations in the right direction.  I thought I'd support these efforts by including them in our newsletter. To learn more about Avaaz: http://www.avaaz.org/en/

Here is a link of an article written by Father Jack regarding the 50 Anniversary of the Bloody Sunday, Selma Alabama. He shared it with us and now, we are sharing it with you.
http://omiusa.org/en/component/content/article/1306
Feel free to pass it on.
Blessings of Peace/Shalom/Shanti/Salam
Jack
For a list of new practice locations for your healthcare professionals, please click here.
Please call ahead if you plan to drop by: 613-839-1198
RECIPE: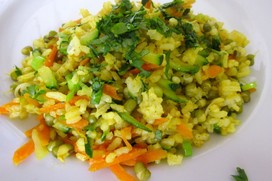 A great spring cleansing recipe with rice, dal and fragrant spices. It is usually the meal that kicks off your cleanse. read more

CLASSIFIEDS:
The Carp Ridge Learning Centre is the perfect venue for a variety of workshops, conferences, retreats, discussion groups, creative activities, children, youth and adult programs, drumming, meditation and yoga classes, etc. read more…
Retreat, Flow, & Heal in Nature ~ Experience the wilderness of the Carp Ridge
ACCEPTING REGISTRATION NOW
What do children do in it?
We fully immerse outside in the wilderness of RidgeWoods:
_____________________
Like Carp Ridge on Facebook
We share recipes, health tips, upcoming events, and wise words read more…
UPCOMING EVENTS:
The Diabetes World Summit is FREE online from
March 23 – March 30, 2015.
http://thediabetessummit.com/
The Truth About Cancer 11 part docu-series begins March 30, 2015 and is free. Sign up here.
http://thetruthaboutcancer.com/quest/#a_aid=1619653
TEDx TheGlebeWomen Tiny Ripples is the theme. Please share this with other Ottawa women who want to make a difference and do your best to attend this important local event.
https://www.facebook.com/pages/TEDxTheGlebeWomen/1401929513448489
_____________
LATEST ARTICLES:
Ask a Naturopathic Doctor: Spring Cleansing

It's time to think about inner cleansing again as we head toward spring equinox. Canadian weather makes it tricky, with cold temperatures and snow inclining us to heavier foods while the increasing sunlight stimulates our bodies to unload toxins accumulated over the winter.
When these conflicting influences are not balanced we can end up with a cold or flu, depending on our constitution and lifestyle.  Signs that we are heading in that direction read more…
Sitting in the clinic kitchen and looking out over the cold, white landscape, it's hard to tell that it will be April next week.  It makes me think of our northern inhabitants and wonder how they manage their long winters every year.  Maybe lots of whale blubber full of vitamin D…  At least the sunlight has significantly increased, bringing in the cleansing season again.  Time to cook up some kitcharee and break out the milk thistle, grin.
Life continues to be intensely focussed on loved ones struggling with illness.  If you've been following me since summer, read more…
---
LAST MONTH'S POSTS:
Ask a Naturopathic Doctor: About Anxiety and Fear